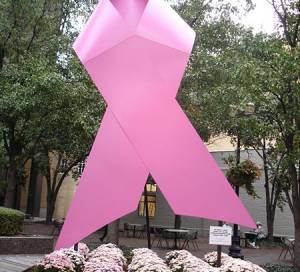 The Untold Message of Breast Cancer Awareness Month

by Jeffrey Dach MD
Breast Cancer Awareness Month Fails to Disclose Limitations of Mammography
October is Breast Cancer Awareness Month, devoted to an advertising campaign for national mammography screening. (1)  An eminent radiologist, Leonard Berlin MD says this advertising message fails to disclose the limitations of screening mammography, namely that mammography will miss 30-70% of breast cancers, and leads to over diagnosis and over treatment.
Left Image: Giant pink ribbon on the corner of 5th and Market, downtown Louisville, KY (10-5-06) Source Breast Cancer Awareness Jason Meredith from Louisville, KY, US Courtesy Wikimedia Commons
Disclosures Should Be Mandated

Dr Berlin says mammography disclosures should be mandated, just like the cigarette and drug warnings that appear on the labels and advertisements.(2)
Unrealistic Expectations

These advertising campaigns create unrealistic expectations for mammography which cannot be met.  The public expects every breast cancer to be detected. They cannot be.  When expectations are unfulfilled, the missed cancer potentially translates into a medical malpractice case.  The missed cancer on a mammogram is now the most prevalent medical malpractice case against all physicians.(3)(4)(5)(6)
Mammograms are Difficult to Interpret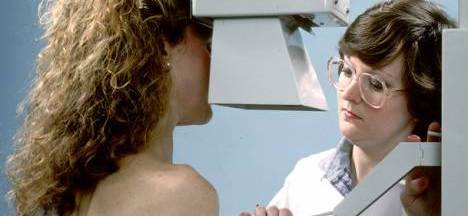 The fact is that mammograms are difficult to interpret, cancers can be hidden, and many are missed. The missed cancer is not caused by a lack of training or competency on the part of the radiologist.  The missed cancer is inherent in the mammogram technique itself.  The American College of Radiology says that 30-70% of breast cancers are missed on the initial mammogram, and are seen in retrospect a year later by going back to the previous mammogram interpreted as normal.  With so many missed cancers and this predatory legal environment, it is a miracle that mammography has survived at all.(7)(8)
Above Image Mammogram at the NIH courtesy of wikimedia commons.
The Untold Message of Breast Cancer Awareness Month:
To summarize, here is the untold message of Breast Cancer Awareness Month:
1) mammography screening is detection, not prevention and has several limitations, namely 30-70% missed cancers, and a tendency towards over diagnosis and over treatment.(7)
2) Many different carcinogenic chemicals cause breast cancer, and removing these chemicals from the workplace or home can reduce breast cancer rates. (26)(27)
3) Iodine deficiency causes fibrocystic disease, and Iodine supplementation prevents breast cancer.(12)
4) Synthetic hormones like Provera increase breast cancer risk. (WHI Study)(29)
5) Bio-Identical Hormone programs are safe, and do not increase risk of breast cancer. (French Cohort Study)(30)
For more on this topic, read my previous articles:
Rethink Pink and Screening Mammography
The Untold Message of Breast Cancer Awareness Month by Jeffrey Dach MD

Breast Cancer Prevention and Iodine Supplementation by Jeffrey Dach MD

The Safety Of Bio-Identical Hormones by Jeffrey Dach MD
Jeffrey Dach MD
www.jeffreydach.com
www.drdach.com
www.naturalmedicine101.com
www.truemedmd.com
Diclaimer:
The reader is advised to discuss the comments on these pages with his/her personal physicians and to only act upon the advice of his/her personal physician Also note that concerning an answer which appears as an electronically posted question, I am NOT creating a physician — patient relationship.  Although identities will remain confidential as much as possible, as I can not control the media, I can not take responsibility for any breaches of confidentiality that may occur Finally, the material produced by myself may be reproduced for personal use, provided that appropriate credit is given; but this material may not be reprinted or reproduced in any format for any other purpose.
Disclaimer     http://www.drdach.com/wst_page20.html
Link to this article: http://wp.me/P3gFbV-oK
http://jeffreydach.com/2008/10/01/breast-cancer-awareness-month-by-jeffrey-dach-md.aspx
(c) 2008-2013 Jeffrey Dach MD All Rights Reserved. This article may be reproduced on the internet without permission, provided there is a link to this page and proper credit is given.