Don't Ask Your Doctor for an HIV Test , Ask for a Glyphosate Test Instead.
While waiting for a red light to change, I noticed a Broward County Bus in the next lane sporting a large advertisement for HIV testing which says:"Ask Your Doctor For an HIV Test" I thought to myself, as usual the county government got it wrong. They are wasting money on the wrong thing.
Number one, AIDS is no longer a threat to the community. Numbers of reported cases peaked in 1991 and have been decreasing ever since. (see chart below courtesy of the CDC and avert.org)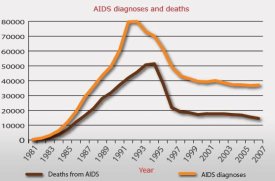 Number two, the HIV test has been criticized for unreliability and false positives. False Positive means the test is positive for HIV, yet the patient is healthy and does not, in fact, have any disease). Patricia Goodson from the Department of Health, Texas A&M University has raised such questions about HIV tests.(11)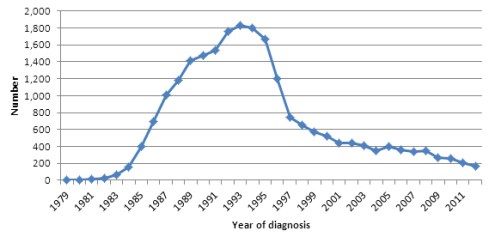 Above chart : AIDS cases in Canada peaked in 1992 and has been declining ever since to low levels. Courtesy of PHAC.
Courts Reversing HIV Decisions
Number three: Another indication of problems with HIV testing is the court system has started to overturn convictions and release prisoners originally convicted of HIV related crimes. In addition, the military courts have overturned convictions for HIV related offenses. This has been happening more and more lately.
Number Four: An indicator that a medical test has problems is the number of lawsuits filed because of a false positive result. There have been many HIV test related law suits filed. Here are a few in the local papers:
Pregnant woman sues Memphis laboratory for $1 million for positive HIV test
August 28, 2012
Doctor sued over false positive HIV test Friday, Jan 22, 2010
HIV Misdiagnosi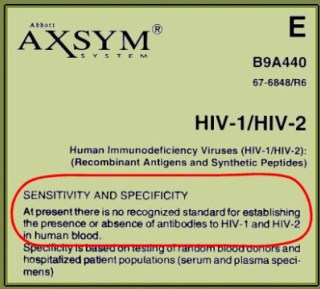 s Lawsuit: Lexington Man Discovers He Never Had The Virus
False Positive HIV Tests Results Spur Illinois Medical Malpractice Lawsuit April 9, 2011
There are many more ….See more at this Link. ……….. and this link

Product Label Disclaimers for HIV Test Kits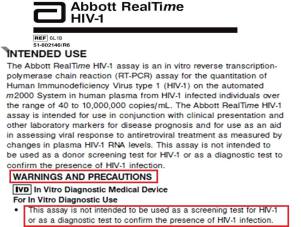 Number Five: The manufacturers of the HIV test kits have placed Disclaimers on the product label which state their test is not intended to diagnose HIV infection in the blood, and/or there are no recognized standards for detection of HIV antibodies…etc.
Left Image: typical disclaimer on HIV test label which says"this assay is not intended as a screening test for HIV or as a diagnostic test to confirm the presence of HIV infection."
Needless to say, having such disclaimers on the package insert does not inspire confidence in the testing service.

Ask for a Glyphosate Test Instead
Glyphosate is Monsanto's herbicide called Roundup which is being spraying in massive quantities on our food, causing contamination of the entire planet. Left Image: Glyphosate-Elephant in the Room.
The New Bus Ad – After a PhotoShop "correction" of the HIV TEST bus ad we now have a better use of government money, "Ask Your Doctor for a Glyphosate Test". In my opinion, Glyphosate represents a greater threat to our community health than the imaginary HIV /AIDS epidemic which was predicted in 1990 and never actually materialized.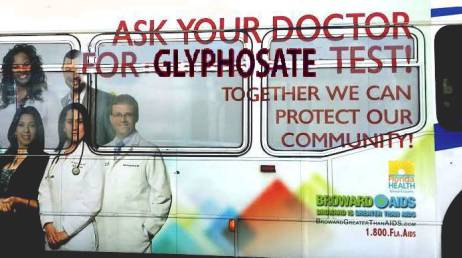 Glyphosate is Greater Threat to Community Health
For example, here is a chart (below) showing increasing use of Glyphosate, Monsanto's herbicide which has been linked to increasing incidence 22 diseases (see Genetically engineered crops Glyphosate Deterioration of Health_Nancy Swanson_2014.)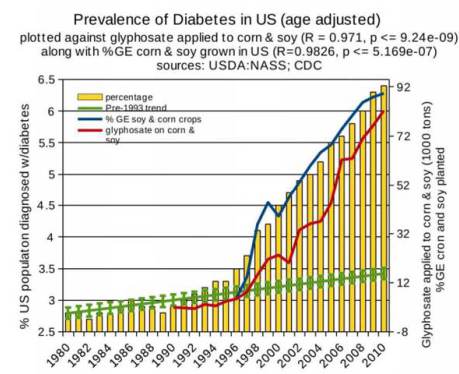 Glyphosate is in our environment and our food causing disease and toxicity n our population. So instead of asking for an HIV test, ask your doctor for a Glyphosate test. While you are at it, call your Congressman and ask for new legislation banning production and use of Glyphosate.
Jeffrey Dach MD
7450 Griffin Road Suite 180/190
Davie, Florida 33314
954-792-4663
Articles with related interest:
Berberine Antidote for a Modern Epidemic
Dr Oz Discusses Glyphosate as Carcinogen
References:
1) Genetically engineered crops Glyphosate Deterioration of Health_Nancy Swanson_2014
2) Glyphosate Suppression Cytochrome P450 amino acid biosynthesis by the gut microbiome Pathways Modern Diseases Entropy Seneff 2013
3) Glyphosate pathways to modern diseases Celiac Gluten Two Seneff 2013
4) Detection-of-glyphosate-in-malformed-piglets-Kruger_2014
5) SeneffGlyphosateYale2014-2-Elephant in the Room
6) Glyphosate-based herbicides are toxic and endocrine disruptors in human cell lines_Seralini_Gasnier_Toxicology_2009
7) Glyphosate Roundup Human Placental Cells Aromatase Seralini Richard 2005 Env Health Persp
8) Glyphosate suppresses the antagonistic effect of Enterococcus on Clostridia Kruger 2013
9) Effect Glyphosate Pathogens Poultry Microbiota In Vitro Krueger Shehata Curr Microbiol 2012
10) Roundup Glyphosate Converging Pattern of Toxicity Farm Clinic Eva Sirinathsinghj ISIS 2015
11) Goodson, Patricia. "Questioning the HIV-AIDS Hypothesis: 30 Years of Dissent." Frontiers in Public Health 2 (2014): 154. PMC. Web. 10 July 2015.
Jeffrey Dach MD
7450 Griffin Road Suite 190
Davie, Fl 33314
954-792-4663
www.jeffreydachmd.com
http://www.drdach.com
http://www.naturalmedicine101.com
http://www.truemedmd.com
Disclaimer click here: http://www.drdach.com/wst_page20.html
The reader is advised to discuss the comments on these pages with his/her personal physicians and to only act upon the advice of his/her personal physician. Also note that concerning an answer which appears as an electronically posted question, I am NOT creating a physician — patient relationship. Although identities will remain confidential as much as possible, as I can not control the media, I can not take responsibility for any breaches of confidentiality that may occur.
Copyright (c) 2015 Jeffrey Dach MD All Rights Reserved. This article may be reproduced on the internet without permission, provided there is a link to this page and proper credit is given.
FAIR USE NOTICE: This site contains copyrighted material the use of which has not always been specifically authorized by the copyright owner. We are making such material available in our efforts to advance understanding of issues of significance. We believe this constitutes a 'fair use' of any such copyrighted material as provided for in section 107 of the US Copyright Law. In accordance with Title 17 U.S.C. Section 107, the material on this site is distributed without profit to those who have expressed a prior interest in receiving the included information for research and educational purposes.
Serving Areas of: Hollywood, Aventura, Miami, Fort Lauderdale, Pembroke Pines, Miramar, Davie, Coral Springs, Cooper City, Sunshine Ranches, Hallandale, Surfside, Miami Beach, Sunny Isles, Normandy Isles, Coral Gables, Hialeah, Golden Beach ,Kendall,sunrise, coral springs, parkland,pompano, boca raton, palm beach, weston, dania beach, tamarac, oakland park, boynton beach, delray,lake worth,wellington,plantation.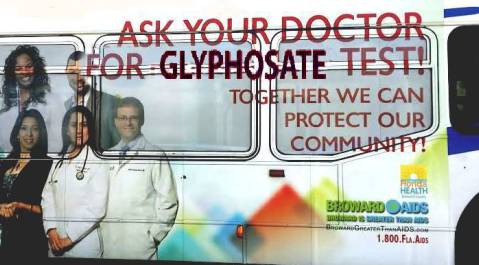 The post Dont Ask For HIV Test, Ask For Glyphosate Test appeared first on Jeffrey Dach MD .