SSRI Antidepressant Drug Induced Suicide in the Military
Over the past few decades, there has been unprecedented increased suicide rate in the military. Some experts see a causal link with increased use of SSRI antidepressants and other psycho-active drugs in the Military. (9,10) Others have denied this link. Both sides of the debate were examined in a recent Congressional Hearing at the VA Affairs Hearing Feb 2010. Left image courtesy of Time magazine .
VA Affa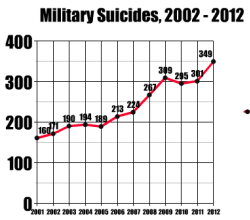 irs Hearing Feb 24, 2010
On February 24, 2010, the Veterans Affairs Committee of the House of Representatives, Chaired by Rep. Bob Filner (D-San Diego) held hearings entitled "Exploring the Relationship Between Medication and Veteran Suicide." The hearing brings to public attention the increasing incidence of suicides in the military. Although this should have been front page news, it was ignored by the media. Left Image: graph showing increasing military suicides courtesy of Time Magazine.
Dr. Peter Breggin Testimony
Dr. Peter Breggin testified at the hearing in front of the Veterans Affairs Committee on "Antidepressant-Induced Suicide, Violence and Mania: Implications for the Military".
Watch below video of Peter Breggin MD testimony Feb 2010.
Above You Tube video: Peter Breggin MD testifies before the Veterans' Affairs Committee of the U.S. House of Representatives on February 24, 2010. Click Here for the entire transcript: Dr Peter Breggin MD testimony Antidepressant SSRI Suicide Military 2010.
Quotes from Dr. Peter Breggn's 2010 publication on SSRI Suicide in the Military (Antidepressant induced suicide)(1)
"The newer antidepressants frequently cause suicide, violence, and manic-like symptoms of activation or overstimulation, presenting serious hazards to active-duty soldiers who carry weapons under stressful conditions. Antidepressants should not be prescribed to soldiers during or after deployment."
"In testimony before the U.S. House of Representatives Veterans Affairs Committee, I have pointed to a probable causal relationship between increasing rates of antidepressant prescription and increasing rates of suicide in the military."
Antidepressant-Induced Reactions That Result in Suicide and Violence
(a) anxiety and agitation with or without hyperactivity (akathisia);
(b) worsening or agitated depression;
(c) compulsive suicidality;
(d) irritability, hostility, and aggressiveness;
(e) apathy and indifference;
(f) behavioral dyscontrol or impulsivity; and
(g) mania and psychosis
CONCLUSION
"Controlled clinical trials, epidemiological studies, and clinical reports confirm that the SSRIs and other stimulating antidepressants cause suicidality, aggression, and mania in children and adults of all ages. Young adults aged 18 to 24 (the age of many soldiers) may be especially at risk for antidepressant-induced suicidality. There is a strong probability that the increasing suicide rates among active-duty soldiers are in part caused or exacerbated by the widespread prescription of antidepressant medication. By themselves, these drugs cause a dangerous stimulant-like profile of adverse reactions. These symptoms of activation can combine adversely with similar PTSD symptoms found so commonly in soldiers during and after combat. The military should study the relationship between psychiatric drug treatment and suicide as well as random or personal violence. The military should rely on the psychological and educational programs that are currently in use and under development for preventing suicide and ameliorating stress among service members (e.g., Department of Defense, 2010).
Antidepressants should be avoided in the treatment of military personnel " endquote.
link to this article: http://wp.me/p3gFbV-2Hh
Articles with Related Interest:
SSRI Drugs and Overcome Depression Naturally
Paxil, Prozac and SSRI Induced Suicide
Protect Your Family from Bad Drugs
Jeffrey Dach MD
7450 Griffin Road Suite 190
Davie Florida 33314
954-792-4663
References:
1) Antidepressant induced suicide Risks for military personnel Peter Breggin 2010 by Breggin, Peter R. "Antidepressant-induced suicide, violence and mania: Risks for military personnel." The International Journal of Risk and Safety in Medicine 22.3 (2010): 149-157.
2) Suicidality caused by SSRIs Int J Risk Safety Medicine 2004 Peter Breggin MD Breggin, Peter R. "Suicidality, violence and mania caused by selective serotonin reuptake inhibitors (SSRIs): a review and analysis." The International Journal of Risk and Safety in Medicine 16.1 (2004): 31-49.
3) http://www.ncbi.nlm.nih.gov/pubmed/10700602
Kalia's study showed that two FDA-approved and widely used antidepressants have a similar capacity to induce serotonergic damage as MDMA.
4) Kalia M, O'Callaghan JP, Miller DB, Kramer M (2000). Comparative study of fluoxetine, sibutramine, sertraline and defenfluramine on the morphology of serotonergic nerve terminals using serotonin immunohistochemistry. Brain Research 858: 92-105.
6) Left image courtesy of Time magazine cover illustration by Lon Tweeten and D.W. Pine June 5, 2008
7) "Antidepressant-Induced Suicide, Violence and Mania–Implications for the Military" Posted on May 27, 2011 by therearenosunglasses
8) Transcript of Dr Peter Breggin Testimoiny to VA Affairs Committee 2010: Dr Peter Breggin MD testimony Congress Veterans Affairs Antidepressant SSRI Suicide Violence Mania Military 2010.
9) America's Medicated Army New Studies Linking SSRI to Suicide
February 9, 2009 Vera Hassner Sharav
10) TIME Americas Medicated Army Mark Thompson 2008…TIME Thursday, Jun. 05, 2008 America's Medicated Army By Mark Thompson
Copyright (c) 2015 Jeffrey Dach MD All rights reserved
Click Here for Disclaimer
Jeffrey Dach MD
7450 Griffin Road, Suite 190
Davie, Fl 33314
954-792-4663
http://www.jeffreydachmd.com
http://www.drdach.com
http://www.naturalmedicine101.com
http://www.bioidenticalhormones101.com
Serving Areas of: Hollywood, Aventura, Miami, Fort Lauderdale, Pembroke Pines, Miramar, Davie, Coral Springs, Cooper City, Sunshine Ranches, Hallandale, Surfside, Miami Beach, Sunny Isles, Normandy Isles, Coral Gables, Hialeah, Golden Beach ,Kendall,sunrise, coral springs, parkland,pompano, boca raton, palm beach, weston, dania beach, tamarac, oakland park, boynton beach, delray,lake worth,wellington,plantation
The post SSRI Antidepressant Drug Induced Suicide in the Military appeared first on Jeffrey Dach MD .